About Otto H. York
Otto H. York is a distinguished chemical engineer who was president of Otto H. York Industries, a company he founded in 1947.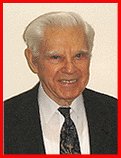 He built his business into a major New Jersey corporation, which was a leader in chemical recovery. He later sold the company to Foster Wheeler. Though retired, he remained heavily involved with the chemical industry. In 1997, he received an Honorary Doctor of Science degree from NJIT.
York made a mark on the chemical processing industry during a 60-year career as chemical engineer, inventor and entrepreneur. With a genius for both technical innovation and business, he became a leader in the field of gas and liquid separations and created a multi-million dollar industry.
With a $1,000 loan, he launched the Otto York Company based on his invention of the York Mesh Demister, a knitted wire mesh pad that removes mist from a gas stream. The device revolutionized the field of gas and liquid separation in the chemical processing industry. The device, which dominates the market and accounts for about two-thirds of the demisters sold worldwide, has saved billions of dollars in the petrochemical, chemical and pharmaceutical industries. Applications have also extended to the food industry and desalination plants.
York later expanded the demister idea into liquid applications, and developed solvent extraction equipment. Throughout his career, he applied sound chemical engineering principles to develop viable commercial products. He had a talent for recognizing problems within process systems and fashioning solutions.
Through the Otto H. York Foundation Inc., he has supported many groups working to improve healthcare, education and environmental research. A friend and donor to NJIT for more than three decades, he enabled substantial improvements to university facilities. In his honor, NJIT dedicated the Otto H. York Center for Environmental Engineering and Science.
In 2002 Otto H. York pledged $1 million to the Chemical Engineering Department at NJIT. At that time the department was renamed the Otto H. York Department of Chemical Engineering.
Asked why he is making this new pledge to NJIT, York said, "I worked quite hard through my career, but I've also been fortunate. I paid for my education since I was 15. It wasn't easy. I'm happy to help NJIT establish scholarships for outstanding students whose parents tend not to have high incomes. I know I had a difficult time getting through college - insufficient finances - and if the school didn't loan me money, I wouldn't have made it."
The NJIT community mourned the passing of longtime friend and benefactor Otto H. York on July 12, 2007.